About Farmland Adventures
Who We Are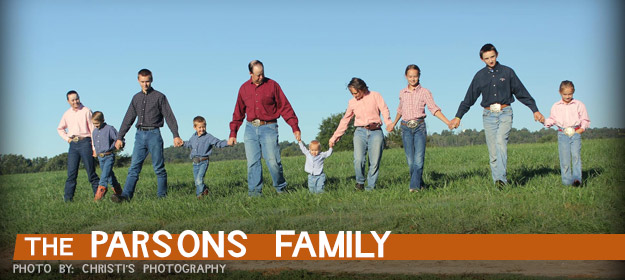 We are a family. We are a family who has joined together to make your visit to our farm engaging, educational, and entertaining. We want you to enjoy your time with us as we attempt to show our southern hospitality. Each one of us offers something unique to the team, and we have joined all our efforts to build the best experience we can for our guests.
We are farmers. Farming and ranching are what we love to do. We can still be seen gathering cows on horseback. Farmers feed our country. It's a big responsibility that we don't take lightly. We are doing what we can to pass this on to our children and, hopefully, to everyone who visits us.
What We Believe
We believe in the value of faith, family, freedom, farm and fun. We trust in God, his son, Jesus Christ, and believe His word, the Bible, is true. We know that everything we are and have comes from Him. Our Christian beliefs guide everything we do. We believe in building strong family relationships. We do this through spending lots of time together, working together, learning together, sharing experiences together, and having fun together. We have tried to create an atmosphere where our guests will have the same opportunities for building relationships. We also believe that sustaining the agricultural way of life is critical to sustaining the American way of life.
Our History
The Parsons family came to Northwest Arkansas around the late 1800's or early 1900's. By 1910, they had settled out in the country on the east side of Springdale, AR. They purchased a few acres of land and began raising a family. Their son, Thurman "Shorty" Parsons, added on to the farm his family started by purchasing land around it. By the 1940's and 50's, they were growing strawberries, grapes, apples, and peaches. They also had livestock such as turkeys, chickens, cows, horses, and pigs.
In the 1960's, the farm had been expanded, and the land was primarily used for livestock. Most of the fruit crops were gone. The turkeys were phased out during the 1980's, and only the cows and horses remained. In an effort to increase the productivity and sustainability aspects of the farm for the present and future generations, we decided it was time to expand our operations once again. In 2008, we added a few free range laying chickens. In 2009, we expanded to sheep and goats to help utilize our pastures to their full potential. 2010 brought the addition of a few pigs and a pony ride and petting zoo business.
2011 was the first year for our new farming venture. We added a corn maze, pumpkin patch, kid's play area, and an area so the pony rides and petting zoo can be done here on the farm.
New Attractions
We continue to add new attractions to improve our visitors' experiene. In 2012, we added pig races - a crowd favorite - and expanded our play area, pumpkin patch, and concession options. In 2014, we added pedal karts. Just recently, we have expanded the play area and added the spider web, human foosball, and roping and riding areas. We are hoping our expansions will allow our future generations to have a place to learn and grow.
We are the third, fourth, and fifth generations to live on and work this land - and we enjoy sharing it with you!