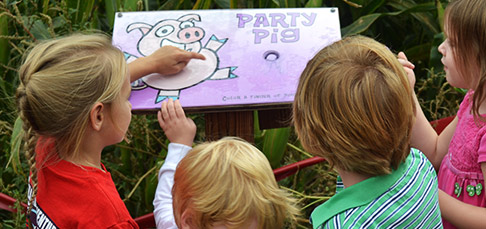 Groups & Parties
Group rates are available for pre-scheduled groups of 20 or more during regular hours or groups of 30 or more during the week by appointment only. Our mazes and additional attractions make great group outings for company picnics, birthday parties, field trips, and other special events. Bring your employees, family, friends, scouting troop, school class, or youth group. Members of your group will interact, make group decisions, succeed and fail together as they progress through the pathways. Your adventure can be a competition or collaborative effort, but it will always be exciting.
Farmland Adventures focuses on education through entertainment. Inside our mazes, groups are involved in three major types of learning experiences: Teamwork, Navigation, and Agriculture. The results and methods of solving the maze make lively debate topics, discussions, and applications to everyday life.
Our goal is to make each trip a learning adventure for groups and an enjoyable outing for leaders. The maze and surrounding farm land immerse groups in a world of exploration. We'd love to host your group adventure.
Farmland Adventures can also host your school fall festival! Call for more information.
Preschoolers & Playgroups
With your family or preschool group at Farmland Adventures
Preschoolers are welcomed at Farmland Adventures. We have activities just for them. A Straw Bale Maze, Hay Bale Pyramid, and Corn Box, Pony Rides, and our Petting Zoo are great for younger children. The Mini Maze is also available for those up for the challenge.
Learn more about options for groups (groups of 20 or more)
Learn more about regular admission (groups less than 20)
Learn more about Mother's Day Out days
Students
Preschool / Elementary / Middle School / High School Groups
Students are welcome at Farmland Adventures. A visit to Farmland Adventures makes a great field trip for homeschool, public school, or private school students. We offer a fun and educational Giant Corn Maze and a Mini Maze experience that all ages can enjoy. For younger students, we have a Straw Bale Maze, Hay Bale Pyramid, and Corn Box. Students of all ages can also enjoy watching and feeding the farm animals.
At Farmland Adventures, we value education. Our philosophy is that education can be accomplished through play, experience, hands-on activities, and even entertainment.
All students, whether public, private, or homeschooled, will enjoy learning. Your child can take a tour and learn about farm animals and crops. Our family has a long history with farming, animals, and agriculture. We can pass on our knowledge and experience of agriculture so your student can learn about how food is grown and how to care for the animals we use every day.
Learn more about Field Trips for School Groups of 20 students or more >>
Scouts
Mazes are great for scout groups. They can practice navigation, teamwork and leadership. Our Giant Corn Maze is a great place for scouts to start. Scouts in groups set by the leaders can explore group decision-making options and problem-solving exercises. Scouts will enjoy getting to explore and learn by doing.
Youth Groups
Looking for a great youth group activity?
Come visit Farmland Adventures if you are looking for an activity for your youth group! Youth today face many challenges and so do their leaders. Kids grow up with such different backgrounds, friends, pressures, and schools. It can be hard to get them to see that they are all on the same journey.
That's where we can help. The maze doesn't care about your race, economic, or social status. The maze is simply a problem that needs to be solved. There are choices and decisions to make that result in consequences. At night, there is the added component of light and dark, the unknown, and taking a path on faith when you can't see what's ahead. The maze can be a metaphor for life.
This opens the door for all types of discussions. Our campfires provide a great atmosphere while your groups' experience is fresh. The possibilities for you are as open as your imagination.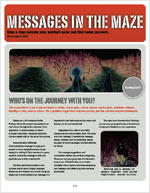 FREE PDF GUIDE
Download our Free PDF guide -
"Messages in the Maze"
- to get started planning your youth's journey.
Parties
Plan your next birthday party or celebration!
Choose Farmland Adventures for your birthday party or special celebration. Kids love the farm and animals. What better way to entertain your child and his or her friends than out in the open air and space of the country? [learn more]
Corporate Picnics & Team-Building Events
Farmland Adventures is a great place to host your company picnic since there is something for all ages. It is also a great place to hold a corporate team building event. Your group will be challenged and have to learn to work together as a team to complete our activities. Our farm provides excellent opportunities for strengthening employee interaction and relationships. If you are looking for a location for your next company meeting or to take your employees for a day or night out treat, give us a call!
Book online or call (479) 799-5033 to make your reservation!